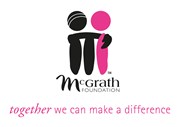 Matt Parker

Expires
Tuesday, 29 April 2014
Matt kicking goals for cancer
Hi everyone,




Thanks for visiting my fundraising page!
Every dollar makes a difference and your donation will help the McGrath Foundation place McGrath Breast Care Nurses in communities right across Australia, and to increase breast awareness in young Australian women. To date, we have placed 83 Breast Care Nurses across Australia, who together have helped support over 19,300 families experiencing breast cancer.
100% of all donations will be donated to the McGrath Foundation and you will automatically receive a tax-deductible via email.
As they say at the McGrath Foundation, together, we can make a difference!

McGrath Foundation
The McGrath Foundation raises money to place McGrath Breast Care Nurses in communities across Australia as well as increasing breast awareness in young people.

McGrath Breast Care Nurses help families in Australia experiencing breast cancer by providing invaluable physical, psychological and emotional support from the time of diagnosis and throughout treatment. This support is provided free of charge and can be accessed through self-referral.

To find out more about how you can help make a difference, please visit www.mcgrathfoundation.com.au
FUNDOMETER
Target
$3,000
Raised So Far
$4,108
Biggest Supporters:
cummins milking co.: $350.00
Anonymous: $251.00